Events & Conferences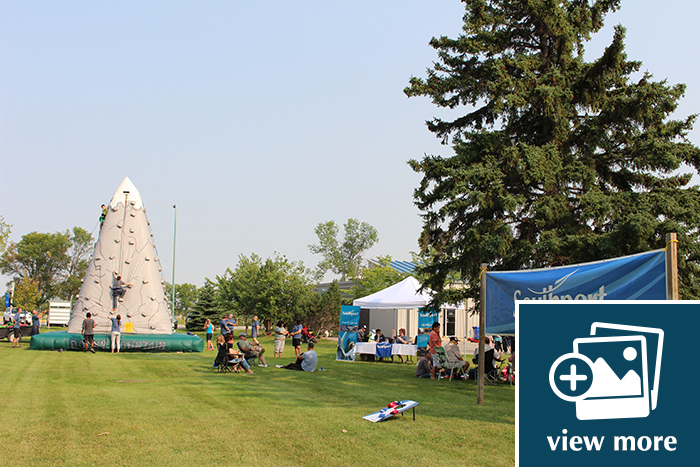 Looking for a truly unique venue for your next event? Business, personal, indoor or outdoor, our facilities are ideal if you want to get your group together in a beautiful country setting away from the distractions of everyday life.
Step away from the hustle and bustle and immerse your group in a setting where you can have engaging team meetings a golf tournament or perhaps develop trust building on our indoor rock climbing wall.
A fascinating history combined with stunning prairie views, superior customer service and modern amenities make Southport the perfect choice for a unique and memorable event.
Groups and conventions will enjoy our onsite dining options, convenient wireless internet access, comfortable accommodations and our stone's throw proximity to some of Canada's most amazing landscapes.
Some of our in-room amenities include complimentary WiFi, hair dryers, coffee makers and cable television with premium channels. The property itself features a new recreation complex with indoor walking/running track, weights, cardio equipment and an indoor climbing wall.
For more information or to book your next event, contact us today. Our experienced, professional staff are here to help you organize your next successful event.
Upcoming Events
April 28 - A Southport 25th Anniversary Special Event
Southport will make a commermorative dedication in recognition of 25 years of military flight training at Southport. Don't miss this special reveal!
May 6 - Community Yard Sale
Southport will host a community yard sale to give all of the residential tenants an opportunity to do some spring cleaning. Southport staff will also have a table of items to sell, and the proceeds from this table will be donated to United Way Portage Plains.
May 18 - Southport 3rd Annual Yard Beautification Competition (Sign up Deadline)
Sign up before May 18 to be entered in the Yard Beautification Competition! Passes to the Central Plains RecPlex and other exciting prizes will be awarded to the best looking and well-maintained yards. Winners will be announced at the August 30th Barbecue. Email rbuhler@southport.ca to sign up or for more information.
Event Recaps
April 21-22 - Home and Business Expo
On April 21-22, Southport and Central Plains RecPlex had a booth at the Home and Business Expo at Stride Place. Staff gave away promo items and answered enquiries about business at Southport and questions about the Central Plains RecPlex. We also had a draw for a 1-month membership to Central Plains RecPlex. We enjoyed interacting with the public and getting to network with all of the other businesses in attendance.
April 26 - Tenant Appreciation Evening
Southport hosted this annual event to show appreciation to commercial tenants. This year's event featured a formal dinner in the newly renovated Central Plains RecPlex. Guest were treated to appetizers in the Welcome Centre and heard from Paulette Connery, Board Chair; Peggy May, CEO; and Colby Orchard, Manager, Recreation at dinner.