Brent Gilbert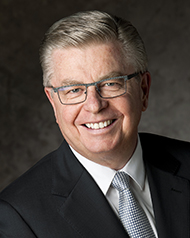 Brent Gilbert was born in MacGregor, Manitoba. Following high school, he studied at the University of Winnipeg earning a Bachelor of Education degree. Following a brief teaching career in Portage la Prairie, Brent entered the insurance brokerage business with Stewart-Greenslade Limited, a well-known and respected insurance brokerage firm in Portage. While working with Stewart-Greenslade, he entered into the Insurance Brokers Association of Canada's Canadian Certified Insurance Broker professional development program earning his CCIB designation. In 2008, Brent was granted the Chartered Sales Professional designation by the Canadian Professional Sales Association.
Brent was President and CEO of Stewart-Greenslade Limited for 22 years before merging the firm with Horizon Insurance. Following the merger, he was appointed to the Management Committee, Executive Committee, and Board of Directors of Horizon Insurance and was the firm's Chief Operating Officer. In 2011, Horizon Insurance was acquired by HUB International, a large, international insurance brokerage firm with local offices throughout Canada, the United States, and Brazil. Brent, in his role as COO, played a key role in facilitating the acquisition.
In 2014, Brent retired from insurance broking and turned his attention to Corporate Directorships. In order to improve his directorship skills, he joined the Institute of Corporate Directors in Toronto and enrolled in their Directors Education Program, jointly developed by the Institute and the University of Toronto's Rotman School of Management. He graduated from the program in 2015 and was granted their ICD.D professional director designation. In addition to his directorship with Southport, Brent is also a Board Director of the Portage la Prairie Mutual Insurance Company.
Brent has been very involved on a professional level with other Associations and Boards throughout his insurance broking career. He is a Past President of the Insurance Brokers Association of Manitoba and a Past President and current Governor of the Insurance Brokers Association of Canada. He is also a Past Chair of both the General Insurance Council and the Administrative Council of the Insurance Council of Manitoba, the regulatory body responsible for licensing and discipline of insurance agents, brokers and adjusters in the province.
Over the years, Brent has been involved in community efforts. While residing in Portage la Prairie, he has been the Past President of the Kinsmen Club, Rotary Club, and the Community Foundation of Portage and District. He also is a past board member of Big Brothers/Big Sisters and the Portage Curling Club as well as a past campaign chair of the Central Plains United Way. Brent now lives in La Salle, MB and has continued his volunteer work with the Winnipeg Singers, Assiniboine Park Conservancy, Reh-Fit Centre, Marymound Inc., and the La Salle Chamber of Commerce.
Brent is married to Debbie (nee Wood), a native of Oakville and a retired Optometric Assistant. They have three daughters, Kate, Meaghan, and Rachel and three grandchildren. Brent enjoys playing drums occasionally with the Bellowtones, and he and Debbie enjoy golfing, attending musical events, travelling and spending time with their family.