Current Southport Commercial Tenants
Southport is a thriving community with a variety of commercial tenants ranging from health administration, education and training, manufacturing, addictions counselling, childcare, recreation facilities, and support services for the military flight contract. Learn more about Southport's commercial tenants below.
Business Directory
Accelerated Christian Education Canada (ACE)
105 Anson Street | Ph: 204.428.5332
Accelerated Christian Education (ACE) is a faith-based homeschooling curriculum managed out of Southport. ACE promotes education across the country through individualization, academic excellence, character building, and traditional values. ACE provides schooling for kids from Kindergarten to Grade 12.
ACE is the only tenant at Southport that owns its building. They have made extensive renovations to the building throughout the years and continue to make it a better place for kids to learn.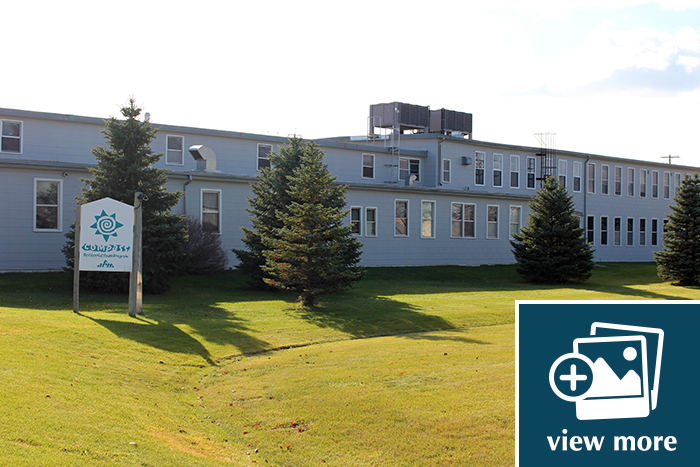 Shared Health Compass Program
175 Nomad Street | Ph: 204.428.6600
Addictions Foundation Manitoba (AFM) opened its first Youth Residential Treatment Facility (now called the Compass Program) in Southport. This 14-bed facility provides residential treatment for youth ages 13-17, who are referred from across the province.
The Compass Program helps address current gaps in service for Manitoba youth and their families. The program is designed to help teens look at their involvement with alcohol, drugs, and gambling to see if it is affecting their life in a negative way. The youth have the opportunity to meet counsellors who understand youth issues and the potential effects of alcohol, drugs, and gambling on young people's lives. The program offers safety, confidentiality, respect, and openness.
AFM occupies the northeast wing of the Southport Building. Renovations were done to create a safe and comfortable setting for the youth. The AFM program utilizes the Central Plains RecPlex, walking paths, and outdoor facilities, which are great for the youth to build confidence, find new hobbies, and interact with others.

Airport Technologies Inc. (ATI)
110 Anson Street | Ph: 204.428.5588
Airport Technologies Inc. is a local, Canadian company that specializes in the restoration and refurbishment of airport maintenance equipment. ATI is located on the east side of Southport in a hangar that has undergone construction to include a large-scale crane. ATI has seen a lot of success throughout the years and has grown into manufacturing its own designs out of its plant here at Southport, in addition to being a Re-Life specialist for Airport Runway Snowblowers and Runway Sweepers. ATI manufactures the best "purpose-built" Airport Plow Vehicle in the world; the Snow Mauler, and a High-Speed Airport Snowblower, the Snow Wolf. ATI has products at airports across North America.
Their Canadian customers include the Winnipeg International Airport, the Department of National Defence (Halifax, Greenwood, Bagotville, Trenton, Winnipeg, Cold Lake, Comox), Serco Facilities Management (Goose Bay, Labrador), Saskatoon John D Diefenbaker International Airport, Regina International Airport, KF Aerospace – Defence Programs (Southport 3CFFTS Flying Training), Cranbrook Airport, Brandon Airport, Edmonton City Centre Airport, Nanaimo Airport, and Abbotsford Airport.
Their US customers include Dulles International Airport, Dupage Airport, Pittsburgh Allegheny Airport, Reagan National Airport, Chicago O'Hare Airport, and Cherry Capital Airport in Traverse City Michigan.

Apex Aesthetics
75A Centennaire Drive | Phone: 204.241.2000 | Press Release
Apex Aesthetics joined the Southport community in early 2023 bringing with it a team of carefully handpicked and expertly trained professionals in the medical and aesthetics fields. Built upon the tenet that caring for yourself should be a luxurious and relaxing experience, from booking your first appointment to admiring your results. Apex Aesthetics offers world class InMode technology for minimally invasive aesthetics and women's health treatments that mimic surgical results. Services also include injectable neuromodulators and fillers, medical grade skincare, and much more.
Visit Apex Aesthetics' website to learn more about the available services and to book your free consultation today.

Assiniboine Community College (ACC)
175 Musketeer Road East | Ph: 204.428.6520
ACC Practical Nursing Program - Assiniboine Community College (ACC) operates a 2-year rotating Practical Nursing Program out of the Southport campus. The program uses an interactive blended learning and classroom environment, with simulated clinical settings using the latest lab equipment. The Practical Nursing Program provides students with an opportunity to make a difference in the health care profession. ACC provides rotating sites in rural areas of Manitoba.
ACC uses the Flightline Building for office, classroom, and laboratory space. Students stay in Southport's accommodation building, Mynarski House, and use the Central Plains RecPlex when they need a break from studying.
ACC has had a lot of success with the program at Southport. This program is great for the local economy and produces local nurses that will ideally stay and work in the Portage la Prairie region.
KF Aerospace - Defence Programs (KF Aero)
55 Musketeer Road East | Ph: 204.428.2500
KF Aerospace - Defence Programs (KF Aero) services the Royal Canadian Air Forces' primary flight training program. In 2005, KF Aerospace (formerly Kelowna Flightcraft) was awarded the Contracted Flying Training and Support Services contract. As the prime contractor of a team of top Canadian aerospace companies, KF Aerospace has established a turnkey operation at the Southport Airport with new facilities, training devices and courseware to satisfy the training requirements of the RCAF. They operate four fleets of aircraft: the Grob G120A for primary and basic training, the C-90B King Air for advanced multi-engine training and the B206 Jet Ranger and B412 CF Outlaw to support advanced rotary-wing training. KF Aerospace and its partners provide all the ground schooling, simulator instruction, flight instruction on the Grob G120A, and all of the support services for the program.
The first-class aviation training program not only features the very best in aircraft and equipment but also takes full advantage of the latest advances in simulators and flight training course-ware. At the 3CFFTS Training Centre, this includes a wide range of sophisticated training support facilities in classrooms, briefing rooms, and on student laptops, where cutting edge graphics allow the students to visualize and fully understand the various flight maneuvers and lesson plans long before they set foot in an aircraft.
Maintaining a high serviceability rate is key to ensuring that there are enough aircraft and helicopters to support the daily training program. The two Aircraft Maintenance Organizations, KF Aerospace Maintenance & Engineering and Canadian Helicopters Limited have a full complement of skilled and experienced aircraft technicians who continually achieve 99% availability rates. Two hangars provide over 78,000 ft2 of space for servicing, maintenance and storage.
The KF Aerospace team, Canadian Base Operators, provides airfield maintenance and snow & ice control with a fleet of modern heavy vehicles and an exceptional team of experienced operators. They are dedicated to maintaining the airfield in the best condition to support flying operations.
KF Aerospace is Southport's largest tenant and embraces Southport's proud military history while putting Southport on the map as they train 80% of all Royal Canadian Air Force pilots. They use a number of facilities on-site, including; Hangar 1, Hangar 2, the Hilly Brown Building where the ground school training takes place and the majority of KF Aerospace staff are located, the Alan McLeod Building is the students' residence, Voyageur Place is where the Officer's Mess is located and all the students and instructors are fed, Barker Suites is available for students and instructors to stay as well, and the Airside Maintenance Building is where Canadian Base Operators is located.

Portage Day Care Centre
75 Centennaire Drive | Ph: 204.241.0030
Portage Day Care Centre operates a licensed 28-space childcare facility for children aged 18 months to 5 years old inside the Central Plains RecPlex. The location is convenient for families living, working, or studying at Southport.
Portage Day Care Centre operates two other facilities within the Portage la Prairie community and ensures quality childcare is provided.
The Southport facility includes amenities such as play and nap areas and gated outdoor play space.

Red River College - Stevenson Campus Aviation & Aerospace
75 Musketeer Road West | Ph: 204.428.6300
Red River College - Stevenson Campus Aviation & Aerospace operates its Aircraft Maintenance Engineer apprenticeship training program out of Hangar 4 here at Southport. The 2,200 square meter campus is well equipped with a wide selection of training aircraft, including a Cessna Citation II jet, as well as repair shops and classrooms.
Manitoba is home to the third-largest aerospace sector in Canada – and Red River College's Stevenson Aviation & Aerospace Campus is an active partner, training its workforce to participate in all aspects of the aviation and aerospace sector. Their graduates are found throughout the industry – overhauling aircraft engines, maintaining aircraft, building components, or in management positions such as Directors of Maintenance and Quality Assurance.
This program is the only one of its kind in Canada, offering an apprenticeship learning atmosphere. Employers send their employees to Southport from across Canada to learn the hands-on training they need to become licensed Aircraft Maintenance Engineers (AMEs).
RRC Stevenson students take advantage of the Mynarksi House for accommodations, food services at the Voyageur Place (the Officer's Mess), and the Central Plains RecPlex for recreation during their stay at Southport.

Southern Health-Santé Sud
180 Centennaire Drive | Ph: 204.428.2720
Southern Health–Santé Sud offers a wide range of health care opportunities to its more than 5,600 employees who collaborate to deliver a full continuum of programs, services, and community health. Southern Health's head office is located in the Southport Building where approximately 80 of their employees are located. They are proud to partner with the many communities in our region in delivering quality health care.
One of the five Regional Health Authorities in the province, Southern Health–Santé Sud spreads over 27,025 km2 with 20 Rural Municipalities, 7 Municipalities, 4 cities, 4 towns, and 1 village. Southern Health-Santé Sud is home to several Indigenous communities, Hutterite colonies, many Francophone communities, a growing, large Mennonite population, as well as many other cultures. As a progressive and responsive designated bilingual health authority, they are proud to serve approximately 190,000 residents – the fastest growing population in Manitoba.