Event Venue Details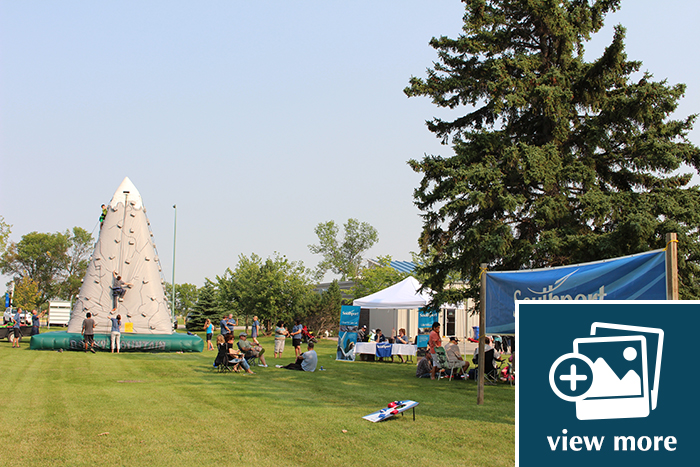 Looking for a truly unique venue for your next event? Business, personal, indoor or outdoor, our facilities are ideal if you want to get your group together in a beautiful country setting away from the distractions of everyday life.
Step away from the hustle and bustle and immerse your group in a setting where you can have engaging team meetings, a golf tournament or perhaps develop trust building on our indoor rock climbing wall.
A fascinating history combined with stunning prairie views, superior customer service and modern amenities make Southport the perfect choice for a unique and memorable event.
Groups and conventions will enjoy our onsite dining options, convenient wireless internet access, comfortable accommodations and our stone's throw proximity to some of Canada's most amazing landscapes.
Some of our in-room amenities include complimentary WiFi, hair dryers, coffee makers and cable television with premium channels. The property itself features a new recreation complex with indoor walking/running track, weights, cardio equipment and an indoor climbing wall.
For more information or to book your next event, contact us today. Our experienced, professional staff are here to help you organize your next successful event.
Conference Facilities
Southport Building
The Southport Building has a number of conference rooms available for large and small single or multi day events. These rooms are comfortable and spacious and can be configured into the exact space you need for your function.
Whether you're looking at a multi day conference with speakers, classroom training and a tradeshow; or an afternoon presentation with cocktail reception. The Southport Building may be exactly what you're looking for with it's relaxed country atmosphere and wide open spaces.
Southport Airport and Commercial Properties has all the amenities you need to plan the perfect conference, retreat, or event.
A few configuration options available for your function could include:
theatre style seating for presentations organized in a straight, herringbone or semi-circle format
classroom style with tables facing the front of the room, suitable for training meetings, breakout sessions and lectures where attendees refer to materials, take notes, etc.
boardroom format with a large elongated conference table for meetings
u-shaped layout which allows the presenter can easily engage participants
half-moon or half-round configuration with seating on one side of a round table, suitable where there is a meal or presentation
banquet layout with full round table seating for dining purposes
imperial layout with rectangular tables positioned to create a long communal tables, suitable for receptions or larger events
reception or cocktail style with tall rounds and border seating
Contact us to inquire about hosting your next event, conference or training session at Southport, Manitoba's premium conference facilities.