Doug McLennan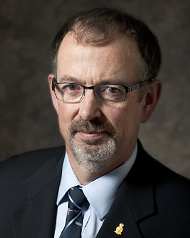 Doug McLennan was born in Brandon, Manitoba. He was a member of 82 Squadron, Royal Canadian Air Cadets before attending Royal Military College and graduating in 1974 with a Chemical Engineering degree. He attained his Canadian Forces pilot wings in 1975 and continued in the military, holding positions of increasing responsibility including as Commandant of the Canadian Forces Flying Instructors School at (then) Canadian Forces Base Portage from 1986-1989.
Doug has held a number of senior command positions in the military including: Director of Air Force Training, Wing Commander 17 Wing Winnipeg, and as Command Director and Senior Director of Cheyenne Mountain NORAD Operations Centre in Colorado Springs, CO. He has also been involved as the Canadian representative on a number of NORAD and NATO boards and committees.
He retired from the Regular Force and Reserves in 2010, and, in 2014, completed a contracted position at Canadian NORAD Region (CANR) Headquarters in Winnipeg, where he had been the CANR Subject Matter Expert for Operations since 2008. He is the Past Chair of the Air Cadet League of Canada (Manitoba), overseeing liaison with all twenty-four Manitoba Squadrons, and the Chair of the Advisory Council. He is a member of the National Air Cadet League Aviation Committee, and a Co-Chair of the sub-committee for Asset Renewal and Future Planning. He has been on the Southport Board of Directors since 2014.
Doug is married to Vicki, and they have two grown sons and three grandchildren. Doug is interested in travel, local theatre and music, spoiling the grandchildren, and all sports, especially golf and curling.